Classic Switches from the Classic Electric Switch Company are the ultimate choice for your restoration hardware of reproduction brass light switches and reproduction brass electric power points.
The Classic Electric Switch Company have been the original manufacturer of the
Clipsal Heritage Range since 1984,in late 2014 Clipsal ceased supplying this product to wholesalers and the general public. However using the quality Clipsal mechanisms and other components used in the original heritage range we are happy to say we can still supply the original Clipsal heritage range with a much larger selection.
Included in our heritage range of restoration brass light switches you will find the following quality antique reproduction electrical fittings.
Black Classic Heritage Light Switches
Bakelite Switches & Power Points
White Classic Round Light Switches
Bakelite Dimmers & Fan Controls
Art Deco Switches
Art Deco Power Points
Brass Switches & Power Points
UK Power Points
Brass Dimmers & Fan Controls
Brass TV Aerial Sockets & Data Mechanisms
Exclusive to our Classic Switches selection is the Bungalow Range of Switches,Dimmers and Fan Controls.
Aluminum Wall Lamps


The above range is only a small selection of our quality Reproduction Electrical Fittings to see the First Page of the full selection of reproduction brass light switches click Classic Switches


Black Heritage Light Switches 55 Series
Click here for full range and pricing
Click on any of the above Reproduction Antique Electric Light Switches for our main page or direct link where you will find a greater range,prices,info and to purchase your selection.
Classic Switches the 1st choice in the restoration of old Queenslanders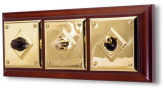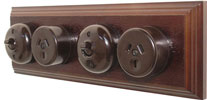 Mounting Blocks for Classic Switches
Mounting Block Prices




Black and White Round Tv Outlets Clipsal Federation Range
Click here for full range and pricing